Michael Thompson's Australian Storm Chase Diary
Mammatus in wake of severe storm - 22nd September 1999
---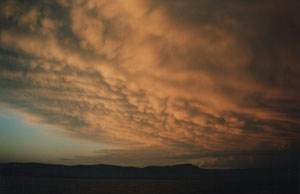 Not a chase as such, but I had to show off the lovely mammatus photos. I was involved in carpeting my house that day and therefore could not chase. During the afternoon a storm developed over the southern highlands, about 30 kilometres west of my place. A severe thunderstorm advice was issued by the Bureau of Meteorology as 2cm hail had fallen. The storm moved off the Illawarra Escarpment near Helensburg in the extreme north of the Illawarra. Hail was also reported from there.
As the sun set the storm moved over the ocean and the setting sun lit the mammatus beautifully.
More photos of this storm can be found at Matt Smith's homepage. ( Click on 1999, then September 22nd ), the first photo below when clicked to full size shows how the storm has drawn all the smog towards it, at this stage it had moved just off the coast and was developing rapidly into a much bigger system.