Michael Thompson's Australian Storm Chase Diary
26th August 2001 - Non severe storm, but first local hail in over 2 years and opening chase of the new season.
---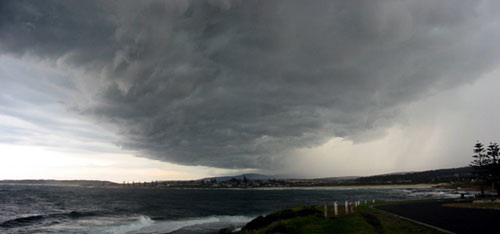 Click to enlarge any photo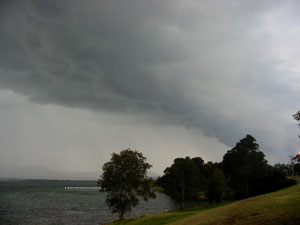 What are the signs that tell you that a new storm chase season is just ahead ? For me it is NE sea breezes and mild temperatures, but another more telling sign that the patterns were changing was to awake at 2am and hear the ocean waves, 2km east of my home. To hear the ocean at 2am means that the offshore land breeze had not taken over, like every other winter night.
The morning of the 26th was sunny and mild. Offshore about 200km a couple of severe storms were evident. They had overshooting tops and pronounced back shear anvils. Storms offshore are a common sight in Winter, but mostly they are weak cold air Cb's. These storms were different, higher and displaying definite signs of being severe. To the west a strong front was progressing across the state. The temperature gradient was quite sharp and if winds could stay NE I thought that we were in with a chance of a storm.
By midday it was still sunny, but on the coast there was little to get excited about. There was high cloud to the west, and weak cumulus over the ranges. I had mentally scaled back the prospects of a storm.
Mid afternoon and it was now completely overcast, darker cloud over the ranges had my interest, but nothing too exciting. The radar however showed a very thin line of heavier rain, and the lightning tracker showed activity along the same line. This storm line was allied to the cold front. To give some idea of the temperature gradient it was below 3C at Orange ( 200 km NW ), and around 20C here. The wind was still NE, I scaled back up the chances of a storm.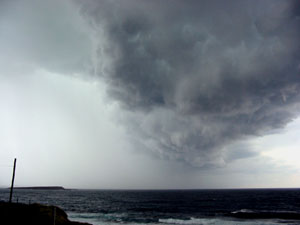 At 3pm the line of storms approached the coast, they did not look that inspiring and the rain curtain was paper thin. However I was interested to see what happened as the line mixed in with the stiff sea breeze.
As I suspected the action intensified as the storms came over the coast. Brief heavy rain, small hail and numerous CG's occurred. Lightning blacked out traffic lights in the Shellharbour area. Hail was very small, only up to 1cm, but lasted about 5 mins.
As the storms moved offshore they intensified further and put on a lightning show.
A weak storm, but not a bad opening to the new season.
Click on the radar picture below to see a full loop of how rapidly the squall line develops as it interacts with the sea breeze front.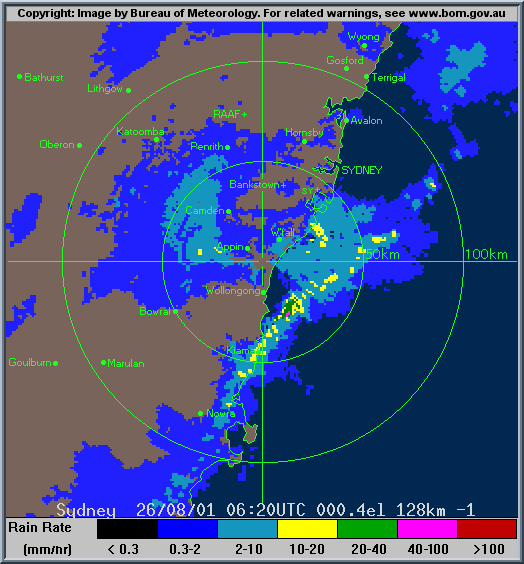 Image courtesy of Bureau of Meteorology