Michael Thompson's Australian Storm Chase Diary
6th - 8th December 2004 - Central West storm outbreak, NSW
Day 2- 7th December 2004 - Gilgandra, NSW
---
| | |
| --- | --- |
| | |
| In a similar manner to the previous day, structure was lost in widespread middle layer cloud - here a severe storm is hard to pick out from the cloud mess. | The lightning show was again - excellent ! |
At sunrise in the small town of Gilgandra there was hardly a cloud in the sky. As I was very close to any target area I rolled over and went back to sleep. Two hours later and it was overcast with thunder rumbling - weak cells had already developed, and it was not even 9am. I guess lack of CAP was going to be a problem today.
Most of day featured small cells, some with good lightning, but none severe. Around 2pm the morning's junk finally cleared to sunny skies, it took just one hour for fresh storms to develop to the west - by now I had wandered about 100kms east of Gilgandra.
In hindsight I should have went west earlier, now however I was left facing an unbroken line of anvils and hard to pick structure. I headed back to Gilgandra. In almost a repeat of the previous day I intercepted a severe storm on the road from Gilgandra to Warren. Winds gusted to around 50 knots and rain was torrential.
That night there was another repeat of the lightning show.
| | |
| --- | --- |
| | |
| The storms were more severe than the photos indicate. | More of the lightning show |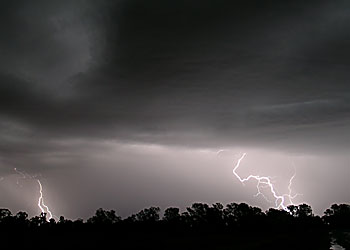 Map below courtesy of Bureau of Meteorology X = Intercept area