Michael Thompson's Australian Storm Chase Diary
6th - 8th December 2004 - Central West storm outbreak, NSW
Day 3- 8th December 2004 - Nyngan, NSW
---
| | |
| --- | --- |
| | |
| Even the pre -noon convection west of Nyngan was strong. | An outflow dominated beast about to engulf Narromine |
At 10am the regional city of Dubbo lay under total overcast, it certainly did not look like a very unstable day, it looked more like..........ummm..a Wollongong ( my home town and storm hole ) summer's day. I decided to drive west and intercept the dryline ( more like a mixing line ). Forty kilometres east of Nyngan and the stratocumulus had descended and even some fine drizzle fell - not the usual weather for countryside that is normally used to searing heat with temperatures exceeding 45C ( 108F ) several times each summer.
Just before Nyngan however the low cloud suddenly cleared to reveal crisp convection to the west. It is hard to describe this abrupt change in weather, it was just like so many US chase reports of their dryline that I have read.
I watched a line develop just before noon about 40 kms west of Nyngan and although it held promise, it weakened and moved southwards. Road options are limited in this part of NSW, so rather than run all around the shop I decided it was time to pull out the camp stool, relax and have a read. Due to this action I was privileged to watch a supercell grow from a mere congestus lump over the course of the next hour. When the storm started to look serious I repositioned a little further NW where over a 20 min period I was able to observe the formation of a wall cloud and meso.
3.05pm

3.11pm

3.20pm

3.20pm

3.26pm

Huge anvil overhead
The storm's updraft was finally swamped by outflow - you can see this in this in the first panorama above as the outflow starts to wrap into the meso.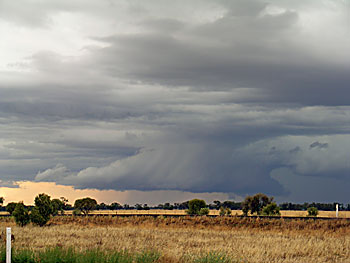 The show was not over - after watching the storm for 20 mins I was swamped by outflow winds, small hail and rain. It took 40 kms and almost 30 mins of driving to outrun the monster - see last panorama above. I was able to track this complex for over 100kms as it moved S/SE, I had chaser convergence ( the first for the trip ) with Michael King east of Nyngan..
Fresh updrafts, some suspiciously supercell looking keep forming on the NE flank.
In the town of Narromine, one of these updrafts finally caught us, flash flooding rains and numerous CG's assaulted the town.
Another lightning show topped the day off
Map below courtesy of Bureau of Meteorology X = Intercept area