Michael Thompson's Australian Storm Chase Diary
Thunder Downunder 2005 - Day 6, 30th November 2005
Rockhampton to Wondai, QLD
All photos clickable for larger size
| | |
| --- | --- |
| | |
| Yet another significant storm develops over an area with no road options ( east ) - tree is a Queensland Bottle Tree, not a boab | Chaser Jane O'Neill contemplates the road options - which unfortunately is really quite simple, there is one. Looking south from same spot as previous picture. |
We left Rockhampton ( after nearly running over a local senior citizen on a mobility scooter who threw a U turn against four lanes of busy highway traffic, without looking - note that these mobility scooters are meant for footpaths ) and headed to Mount Morgan where the first morning convection produced a brief storm. There was extensive flash flooding evidence, locals said it was from the 27th November, our earlier trough line we chased to Maryborough, the one with a speeding issue.
From Mount Morgan we watched a potentially severe storm get its act together, we had two options both ending at Biloela, one would take us on a collision path with the storm, the other just outflanking the storm to the west. We wisely choose the safer option as scud almost on the ground kind of sends a statement about the possible winds and hail. Later when we crossed behind the path of storm we passed through a small area where several trees had been uprooted.
| | |
| --- | --- |
| | |
| At the crossroads, do we core punch or take a road that outflanks the storm. | We took the safe option and this is what we saw to our east - the alternative road option would have passed through this. |
From Biloela we headed in a general southerly direction. We witnessed several larger storms eastwards in areas with poor road options. We also passed under a few weaker storm lines. We spent the night at Wondai. A high based storm developed after dark, but again we were all too tied to chase it down for lightning photos.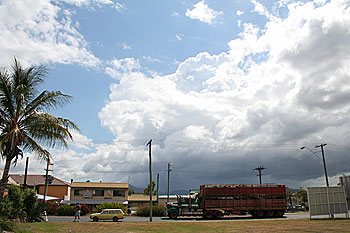 From left to right this picture sums up 6 out of the 8 Rockhampton experiences.
Palm Trees, Retirees, Dubiously named motels ( Porky's ), 30 year old cars, a congestus tower, a Cattle truck...missing, a gaint bull and a hell bent pensioner on a mobility scooter.