Michael Thompson's Australian Storm Chase Diary
3rd February 2007 - Non severe storm-Southern Highlands, NSW
All photos (except video stills ) clickable for larger size
| | |
| --- | --- |
| | |
| Crisp convection near Berrima | Early convection west of Moss Vale |
The 3rd February was one of those surprise days. The initial forecasts were nothing to get excited about, nor was wind shear. However moisture from a NE sea breeze was expected to intrude just a little inland, enough perhaps to overcome the drier environment NW winds. The initial convection near Berrima was quite surprising. Watching the rapidly evolving congestus from Bundanoon I met up with fellow storm chaser PingTang from Nowra.
When it looked like the cell neat Berrima was getting organised we moved northwards towards it.

We watched the rainfree base for near 30 minutes. The only disapointment was the lack of lightning, there was some CG's (cloud to ground) bolts, but they were few and far between.

However th real surprise was that after the storm weakened and looked over, I encountered hail. It was large hail, but it was close to 2cm.

| | |
| --- | --- |
| | |
| A low rainfree base on the seabreeze convergence | As rain start to fall the rain free base tightens |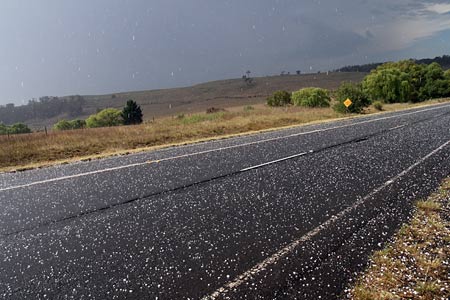 Surprise hail fall near Berrima