Michael Thompson's Australian Storm Chase Diary
10th February 2007 - Southern Highlands to Illawarra Coast, NSW
All photos (except video stills ) clickable for larger size
| | |
| --- | --- |
| | |
| Canyonleigh, just west of Moss Vale | Early convection west of Moss Vale |

At last the moisture that has eluded the Southern Highlands so far this summer was here. Today was not a day for structure, storms were embedding in showery masses, tending to disorganised convergence areas. One such area focused near Canyonleigh, just west of the Hume Highway near Moss Vale.

Once again I had chaser converegance with Nowra chaser PingTang. We watched for ubout 30 mins as a storm tried to organise. Just as it was looking the goods it quickly became outflow dominated. I followed the storm SW onto the Hume highway, not a wise move as this road is very dangerous in this type of weather. I was surprised when 1 to 2cm hail started falling - this immediately had an impact on the highway with traffic chaos. Motorists tring to pull off and under trees, another driver had virtually parked on the highway.


A short video of the Highway hail is below

The hail did not last long and after 20mins the whole storm had decayed in a general rain area.

I preceeded home thinking that my day was over. I was pleasantly surprised that congestus towers were organising under the old anvils near the Illawarra escarpment. This is not normal as anvil blowoff does a pretty good job of killing convection on the coast. It was another convergence line, this time focused right on the escarpment edge. I was further encoraged when after descending the infamous Macquarie pass I saw lightning over the coast.

Now after sunset I headed towards the eastern shore of Lake Illawarra to a location that offers a great setup for night time lightning.


| | |
| --- | --- |
| | |
| The storm at Canyonleigh is just about to become outflow dominated | Lake Illawarra, looking west to convergence line |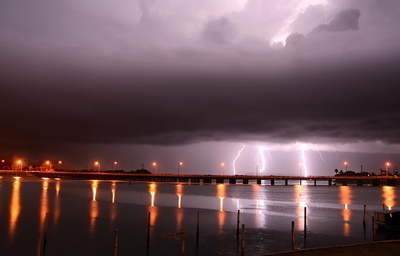 Windang Bridge, Lake Illawarra
Not long after I started taking some lightning shots I noticed a suspicious lowering. A first I dismissed it as a cloud tag, but in hindsight I am not certain the funnel like structure actually lasted 7 minutes, during that time it moved southwards along the convergence line. I drove the area the next day, but could not find even the smallest twig out of place. So I do not know? any opinions readers ?