Michael Thompson's Australian Storm Chase Diary
13th November 1998 - Southern Illawarra and Sydney Storms

COPYRIGHT: All photos on this and my other pages are copyright of Michael Thompson. However use for any non-profit purposes can be had in most instances by simply E Mailing first. Please note that photos have been compressed to aid quicker web viewing. Original prints are of better quality.
---
One of the best scenarios for severe storms in eastern Australia is an overnight / early morning rain band located just slightly ahead of a trough, if the rain clears by mid morning and the sun comes out, and the trough line holds off passing over until the afternoon you can almost guarantee storms.
Friday the 13th was such a day. Widespread light - moderate rain had fallen during the night. By 9am the main cloud mass had cleared to sea, and the sun was out. Cumulus started forming along the Illawarra escarpment almost immediately. It was a work day, around 10am I had heard that our Parkes Office about 300 km west had been blacked out by storm activity. Lunchtime at 1pm and I noted cumulus congestus everywhere, to the south west there appeared to be a larger storm mass, but it was very hard to see through the congestus. Around 2.30pm I routinely checked the weather and a storm was passing just to the south of my Warilla workplace. I was in perfect position to observe the northern flank pass. The photos above show that storm. In the lower left of the first is a gust front, however the cloud from about the house apex and to the right is not gust front, but was located close to the updraft, which is just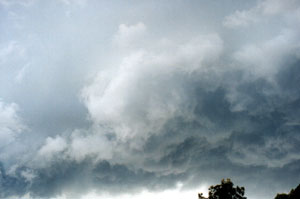 offscreen to the right. There was some weak rotation in these cloud tags, which the second photo shows more clearer. I am 100% certain it was not mesocyclone rotation, but simply cloud base rotation due to the boundary of outflow / inflow. The third photo was taken looking almost straight up, there was weak rotation in this cloud also. The northern flank slipped past Warilla, giving only brief heavy rain. I have since learnt that hail to 2cm did fall in the Bass point area, about 5km south of Warilla. I believe that this storm may have been severe, but was never reported.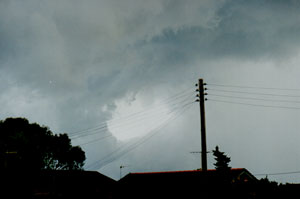 I knew a chase would be on as soon as I could leave work, without a car however it would be difficult !! My planned departure at 4pm ( on pushbike ) was delayed as another smaller thunderstorm that dumped heavy rain. I was finally able to get away at 4.15pm. I headed home to wait for my wife to return with the car. At approx 5pm I was at last mobile with car. I quickly drove to the nearest open area, which is a pleasant jetty on Lake Illawarra. It was quite evident that the trough line was almost overhead, to the east over the Pacific ocean and overhead was towering congestus, however clearing was evident to the south and west, whilst the north showed a promising storm.
It was decision time, and I made the wrong one. The two options were 1) stay and chase locally, with the hope that the congestus overhead and to the north west may develop, or 2) to run for the western suburbs of Sydney, hoping to pick up the development there before dark. I chose to stay local. At around 5.30pm the congestus to the north west started glaciating and pushing out an anvil, rather then stick at Lake Illawarra and be in the firing line for rain, I drove 10kms north to Hill 60, Port Kembla, so that I could be positioned on the northern flank, from this vantage point I watched as my poor decision was revealed.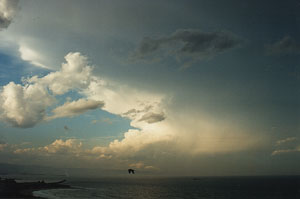 To the north over Sydney's south was a large storm with a pronounced back sheared anvil and a small flanking line feeding into it. The time now was about 6.30pm. Meanwhile at that very point in time 70 kms to my north Sydney chasers Michael Bath, Jimmy Degaura, Paul Graham and David Croan where in perfect position ( take the link at the bottom of the page to read their chase story, and look at the awesome pics ). I took a photo of this system, then turned my attention back to the local storm just to my south, unfortunately unlike the one earlier in the day, this storm just did not do it, there was heavy rain, there was small hail, there was a small ration of CG's, but there was little of the structure that makes a storm interesting, there definitely was nothing severe.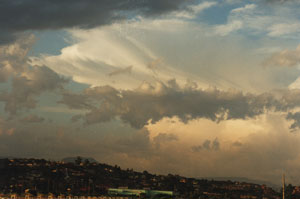 My position although good was a little too far north for my liking, I headed by about 5km south to the northern shore of Lake Illawarra, near the Wollongong suburb of Primbee. From here I observed explosive growth over Sydney's south west as yet another storm developed, this storm followed almost the same path as the previous. In the space of 20 mins this storm went from promising congestus to a severe storm, with a Bureau of Meteorology severe storm warning out. Again my Sydney comrades were in the box seat, I took at photo of the rear updraft tower and back shearing anvil, something which the Sydney lads could not see,as they were right under it. Later reports revealed that this storm produced hail and very heavy rain.
It was now sunset and although the storm growth had been explosive, the trough had now moved eastwards and clearing was rapidly occurring in the Illawarra.
One last sunset photo finished the day, but alas there would be no lightning show tonight.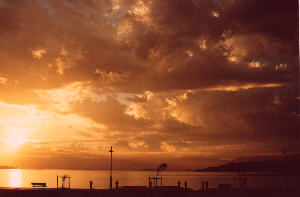 Other reports for this day can be found at
Australian Severe Weather - Michael Bath
Australian Severe Weather - David Croan
Australian Severe Weather - Matt Smith