Michael Thompson's Australian Storm Chase Diary
30th November 1998 - Sunshine Coast, Queensland
COPYRIGHT: All photos on this and my other pages are copyright of Michael Thompson. However use for any non-profit purposes can be had in most instances by simply E Mailing first. Please note that photos have been compressed to aid quicker web viewing. Original prints are of better quality.
---
A large cell just north of Noosa Heads, the cloud structure indicates possible rotation.
CLICK TO ENLARGE ANY PHOTO
The forecast for the 30th November was for a weak surface trough to form over SE Queensland and the New South Wales border, any activity would be enhanced by cooler than normal upper atmospheric conditions. I left Stanthorpe on the Queensland / New South Wales border at 10am, driving northwards to Dalby, than Toowoomba. At Toowoomba it quickly became evident that initial Cu development was only occurring over the ranges to the east, the wind was a cool SW, I immediately suspected that I was on the drier side of the trough. I decided to push in a NE direction from Toowoomba into the upper Brisbane River valley.
At 2pm at the small town of Esk I was sufficiently eastwards enough to see that another 30 minutes or so to the east was a humid seabreeze from the coral sea, there were already some small cells starting glaciate at this point.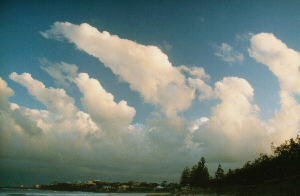 From Esk I drove to the Sunshine Coast, this coastline is a series of seaside resort towns about 100kms north of Brisbane. At 4pm and seashore at Alexandra Headland I could see the first tactical blunder for the day. To the south, perhaps another 100kms south of Brisbane was a line of mature storms. A severe storm warning had been put out for the Gold Coast.
I decided to lay and wait, the drive through Brisbane peak hour and then to the Gold Coast would be too risky. Meanwhile there was much local Cu growth and activity but none matured in my immediate area. Around 5.00pm I heard on the radio of another severe thunderstorm advice for the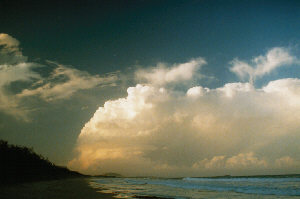 Capricornia and Wide Bay districts. Capricornia was about 2 hours away, Wide Bay was possibly 1 hour away, but it would also be a risky venture as the road network is remote. 6pm and just before sunset a cell had gone up about 70-100kms to the north, it was chase this or nothing. But not before getting a couple of shots from the seashore. The photos are interesting as there are some signs that this may have been a supercell, but I am not totally convinced. Wind shear was very strong, the photo of the smaller Cu above strongly shows that.
To cut a long story short by the time I reached Noosa Heads the storm was already seaward and the sun had set, the storm appeared to have just clipped Noosa Heads with heavy rain, but no reports of anything severe. The track of the storm would have been from east of Gympie across largely uninhabited land then out to sea, I was in that area the next day and in the Rainbow Beach area there were signs that rainfall had been very heavy, but there were no other signs of hail or wind.
About an hour after dark another cell formed just off the coast and put on a lovely lightning show, 90% of the hundreds of flashes were within the anvil with only a couple actually connecting to ocean.